Moving can be an incredibly tedious process in general, and a PCS move is typically filled with plenty of anxiety and stress.
You might be asking yourself…
Where will we live?
Where will my kids go to school?
Will my spouse's job transfer or will they have to find a new employer?
Do they find the employer first or figure out where to live first?
But before you start to panic, there are a few simple things you'll want to consider before making your Air Force PCS preparations. And we know, because we have all PCS'd here!
When evaluating housing options at Luke, it is a good idea to team up with a credible real estate agent to get the lowdown on the housing options and market conditions so that you can make an informed decision.
In this article, we'll discuss everything you need to know about Luke Air Force Base — so that you can feel excited about your next PCS move!
Where Is Luke Air Force Base, Arizona?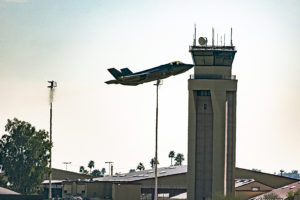 Luke Air Force Base is located about 15 miles west of Phoenix, Arizona in beautiful Maricopa County.
Some of the most popular areas for buying or renting a home include:
Surprise
Waddell
Litchfield Park
Buckeye
Goodyear
Avondale
Peoria
Glendale
El Mirage
If you've been assigned to Luke Air Force Base and are considering living off base, working with a reputable real estate agent who understands the Air Force PCS journey and the intricacies of the military lifestyle, terminology, and benefits is crucial in making your sure your move goes off without a hitch.
Agents can provide valuable resources through partnerships with other military-familiarized lenders, title companies, inspectors, and vendors. They also can provide valuable insight into schools, daycares, employment opportunities, and more. You can relieve many of the stressors of a PCS by working with a knowledgeable agent, or better yet, a team of agents!
What's the Weather Like in Luke Air Force Base?
You'll be thrilled to know that Arizona experiences about 300 sunny days per year, and when stormy weather arrives, it usually isn't a week-long affair.
As for the temperature, you can experience lows in the 40s and highs in the high 60s to low 70s during the winter and spring season. During the summer, you can expect high temps in the low 100s with lows hovering around 90 at night.
If you're not accustomed to such warm temperatures, you'll want to step up your hydration game and drink plenty of fluids, especially in the hot summer months.
How Is the Housing Situation in Luke Air Force Base?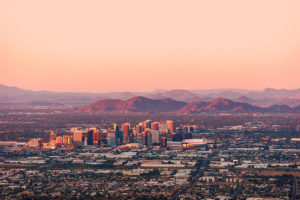 As with most bases, Luke Air Force Base has on-base housing options. Wait times for base housing can vary by season, but often are long.
Luckily, there are a number of off-base housing options in the cities surrounding Luke. The best way to find the perfect house for you and your family is by working with real estate agents who specialize in serving military families through their PCS.
Investing in a property at Luke Air Force Base has proven to be a smart investment for incoming airmen and their families over the years, as the area has experienced a steady rise in home prices.
If you're interested in buying the Luke AFB area, it's essential to learn about the market, consider your lifestyle, and consolidate your budget so you can find the perfect home for you and your family.
How's Construction Like in the Area?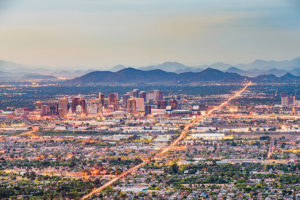 On the other hand, If you're planning to build a home near Luke Air Force Base, the weather will always be on your side. Most construction projects do not face weather delays, as construction continues year round thanks to the sunny climate of Arizona.
There are many builders with new construction developments in the cities surrounding Luke Air Force Base, featuring exception perks like special interest rates and closing cost coverage from the builder. This can help you start your new life at Luke AFB the right way, without the stress of shopping for a home.
Is Luke Air Force Base Retiree-Friendly?
You'll find that many military families who have their last station at Luke Air Force Base decide to stick around permanently, thanks to the warm weather and countless opportunities for adventure that the area has to offer.
All of this makes Luke AFB an ideal destination for active duty service members and veterans alike, helping to build a strong military-focused community that may be difficult to find elsewhere.
The Bottom Line: You can get excited about your Air Force PCS to Luke Air Force Base
Ultimately, the great weather, location, entertainment options, and living environment make Luke Air Force a fantastic place for permanent change of station movers like you.
How Can We Help You?
If you're PCSing to Luke Air Force Base, we would love the opportunity to connect with you today to discuss all of the options for your big decisions that lie ahead.
As a group of experienced and licensed real estate agents that focus on helping military families serving Luke Air Force Base, Davis Monthan Air Force Base, and beyond, we're committed to helping you through every stage of the relocation process, from virtual home buying to navigating financing options and every PCS task in between.
If you're ready to buy a house near Luke Air Force Base, consider reaching out to Desert Heroes Team.
Work with us today!